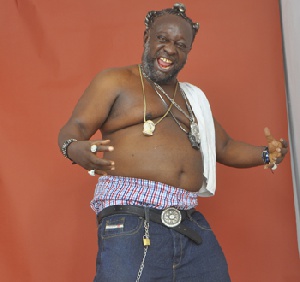 Wed, 15 Aug 2012 Source: Alfred Sarpong
Veteran Ghanaian actor, Kojo Dadson, is to be discharged from the Korle-Bu Teaching Hospital, Wednesday, days after being admitted for suffering a mild stroke attack on the set of 'Illusions', a Ghanaian television series.
Speaking in an exclusive interview with Viasat1 News Online, the producer of 'Illusions' Emmanuel Appiah-Kubi said doctors have confirmed that the veteran actor will be discharged to go home on Wednesday.

Emmanuel, who heads Top Class Media Productions, the production company for 'Illusions,' said he looks forward to Kojo Dadson's swift recovery and return to set. After visiting the bed-ridden actor at the hospital Tuesday evening, Emmanuel disclosed that Kojo is gradually recovering, though he was quick to add that it will take time for him to fully recover.

Asked about plans towards shooting of new episodes of the series, Emmanuel said the most important thing right now is for his actor to fully recover. He said Kojo has about five or six scenes left to shoot before the end of the season, but will see what the future holds.

The fate of Kojo Dadson has been a source of worry to many since Viasat1 News Online broke the news Monday. The actor is said to have been in bad shape even before he got on set to shoot a scene of popular Ghanaian series 'Illusions' which shows on Viasat1 Mondays at 8:30pm.
Emmanuel earlier said the actor had the stroke attack while on set and was rushed to the hospital, where he has been on admission since then.

Kojo played a significant role in Village Communication's 'Number 5 Kotokuraba Street.' He also played an integral part in 'Sun City' before Revele films introduced 'Home Sweet Home' and 'Hotel St. James' which made him very popular.

He also featured in international award-winning movie 'Run Baby Run'and 'Love Brewed in African Pot.'
Source: Alfred Sarpong