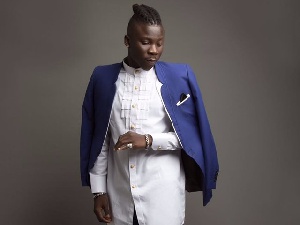 Multiple award-winning Ghanaian Reggae/Dancehall artiste, Stonebwoy has finally waded in on the assertion that Nigerian musicians draw inspiration from Ghanaian music and sound.
According to the talented recording artiste, Although Nigerian artistes have a wider reach on the world music market, it is undeniable that they "always pick up an inspiration or two" from Ghanaian artistes and music.

The 'Bawasaba' crooner made the claim in a recent interview with OkayAfrica.com.

"The state of Ghana music is at a growing stage still, where it's competing with the super eagles of Nigeria, so to say [laughs]. But all the same, it's very, very interesting because regardless of Ghana's stance on the globe when it comes to Afrobeats, Nigerians always pick up an inspiration or two from us." retorted Stonebwoy on the competition between Ghanaian and Nigerian music.
Ghana based Nigerian Afrobeats artiste, Mr Eazi, received massive backlash from Nigerians on social media late last year when he suggested that Ghanaian music and sounds has had an influence on Nigerian music over the past years.

In early 2017, he was at the receiving end of a vicious backlash from Nigerians where he tweeted: "Ghana's influence on present-day "Naija Sound" cannot be overemphasised!!!"

Some Nigerians accused him of betraying the people who have made him what he is today and daring to say that Ghanaians influenced Nigerians in any field of endeavour.