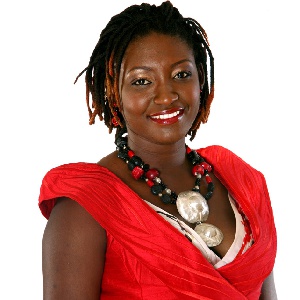 Ace Ghanaian actress and movie producer Juliet Asante has lauded Twi-based (Kumawood) film makers for their ability to tell the Ghanaian story in the most authentic manner.
According to her, Kumawood filmmakers have been able to identify their audience and are serving them what they like.

Although many critics of Kumawood films have jabbed at the quality of movies churned out, Ms Asante is of the opinion that when it comes to telling a story that relates to the everyday life of the ordinary Ghanaian, Kumawood is "spot on".

She was, however, quick to point out that the industry should open up for criticism and avoid being defensive and learn more about filmmaking to grow.

Speaking on the Executive Breakfast Show (EBS) on Class91.3FM on Thursday 6 July, 2017, the award-winning filmmaker said: "As a filmmaker, most importantly you have to identify your audience before you set out to do a project and I have a lot of respect for the Kumawood film makers because they just go out and make it happen. They have identified very clearly what their market is and they are serving their market rightly or wrongly."

She said film is a powerful tool for education, information and communication that the entire nation needs to pay attention to.
According to her, film influences culture and countries get soft power and global influence via movies but Ghana is not paying attention and does not recognise the gradual shift in its culture due to production from neighbouring countries being televised all over the country.

While she bemoaned the lack of attention to what is being televised which impacts negatively on young people, she said Kumawood tells the Ghanaian story.

"What makes Kumawood different, I think for me when I look at Kumawood, I always narrow down on one thing, that is, telling your story and I think that on that level Kumawood film makers have it spot on. They are able to tell stories that are authentic to Ghana."

Touching on the quality of Kumawood movies, Ms Asante said: "Maybe the way they tell it is a little bit thwarted. Maybe funding is an element, technical knowhow is an element, but all of those things can be solved and I think that if I would give any advice to those operating in that system, they should be open to engaging, networking and learning because I think there is a little bit of self-protection or defensiveness amongst people who make films for a certain class or are classified as Kumawood and I think it's an unnecessary defensiveness.

"We are all learning and so if there is a gap in your knowledge, you should be humble enough to accept the gap and learn...open yourself up to learning. No one is attacking you, you are doing a great job and let's look at how we can take this to another level."