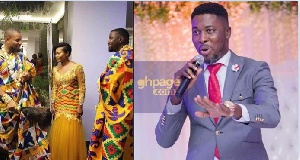 Politician cum businessman Kwame A Plus is always at the back of NDC members.
The musician who has declared himself as a member of the ruling New Patriotic Party yesterday attended actor John Dumelo and Gifty Mawunya's wedding.

After the wedding ceremony, congratulations and well-wishers trooped to social media to congratulate John Dumelo and his newly-wedded wife.

One of the messages that caught my attention was A Plus' post on Facebook.

A Plus in the post mocked John Dumelo who's a member of the NDC and was very instrumental during their 2016 election campaign.

In the post, he wrote:

Setting the record straight! John Dumelo wasn't able to marry under John Mahama's regime. He's doing that under Nana Addo' s regime. That's another significant achievement by the NPP Government!
See the post below…