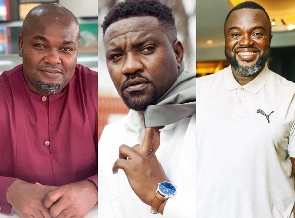 Movie producer turned politician, Fred Nuamah has maintained that his friend, actor and politician, John Dumelo, gave him his blessing to contest the NDC Ayawaso West Wuogon parliamentary seat.
Fred in an interview on Peace FM's Entertainment Review with Kwesi Aboagye announced that some of their friends are witnesses to his statement but John Dumelo has vehemently denied consenting to Fred bid for the right to represent the NDC in the constituency.

The host of Entertainment Review, Kwesi Aboakye, has corroborated Fred Nuamah's claim, affirming that businessman and sports presenter, Yaw Sakyi was a witness to John and Fred's part although he has denied to publicly speak on the matter.

"There are witnesses to this and per our research, one of the important people who bare witness said that John confirmed at his office that you (Fred) had his blessing because he wasn't going to contest the Ayawaso West Wuogon seat. That man is Yaw Sakyi, he has agreed we cite him, however, he will not talk about the issue," Kwesi Aboakye disclosed.

Fred Nuamah on March 11, 2023, gave an account of what ensued between himself and John Dumelo, the man he calls his brother and what ultimately led him to pick up nominations and start his campaign.

"When my brother announced he was eying SALL, I didn't want the place to be vacant and so I started work and tested the grounds. The grassroots gave their support as well as friends and family, I asked God and He said I should take over what John couldn't do...in 2020 I was with my brother campaigning, I was his best man, he is my brother. I supported him but in this case, he gave me the blessing reason why I am contesting. I wasn't the only person who had his blessings."

He added: "As you were told, they were witnesses and so if Yaw Sakyi testified to you, then I want to say that there were others. I can't compete with my own brother, it doesn't make sense...I will not say my brother has betrayed me. We can always change our minds...we shouldn't blame him for coming back, it is allowed."
The Ghanaian movie producer who is set to go head-to-head with his friend intimated that he will not withdraw his nomination. He explained: "If he had made his intentions known in November or December, I wouldn't have picked nominations. He delayed, just maybe I wouldn't have contested him."

John Dumelo in 2020 represented the NDC in Ayawaso West Wuogon but lost to Lydia Seyram Alhassan, the current Member of Parliament for the constituency.





OPD/KPE