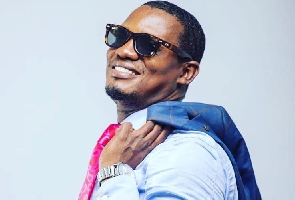 Artiste manager and CEO of Media Excel, Kwasi Ernest, has disclosed how he is able to combine managing musicians with other businesses he does to sustain himself.
He explained that, although he is engaged artiste management as his primary occupation, he acquires land to build houses for rent or sale to earn an income in addition to his job.

The artiste manager revealed that he travels outside the country to work in factories for months and returns back to the country to attend to his artiste managerial duties.

Speaking in an interview with Nana Ama Mcbrown on Onua Showtime, on Sunday, September 17, 2023, Kwasi Ernest recounted the side businesses he engages in to sustain himself financially aside from the artiste management.

"Because of the level of artistes that I had, from one artiste to the other. From Joyce Blessing to Kofi Sarpong, from there to Stella Duga, Francis Agyei, and the rest. Because it was a multiple task I did not get that opportunity. So I created the event management.

"With the events, most of the funerals in the country I get the contracts. We do decoration and provide sounds, canopies, and all the resources. Sometimes we could spend four days at an event. I do programs outside Accra, I used to do a one-week event at Kwahu every December called 'Bliss on the Hills.' Sometimes too I travel outside to maybe the USA or Canada to work at a factory for three months and then return back to the country," he added.
The artiste manager went further to reveal how his real estate business commenced and how it is thriving currently because he has gotten partners to invest in it.

"Apart from that I developed an interest in real estate. Let's say someone has built a house in Ghana and hasn't occupied the house for four years because he/she stays abroad, the person can give me the house to renovate it and give it out for rent.

"We can also purchase lands and build houses for rent or sale. I've gotten partners who are investing in the business for it to flourish more. All these petty things have actually sustained me till today and it's even growing more," said Kwasi Ernest.

BS/BB

Ghana's leading digital news platform, GhanaWeb, in conjunction with the Korle-Bu Teaching Hospital, is embarking on an aggressive campaign which is geared towards ensuring that parliament passes comprehensive legislation to guide organ harvesting, organ donation, and organ transplantation in the country.
Click here to start the nomination process for the 2023 GhanaWeb Excellence Awards

Watch the latest episode of Nkommo Wo Ho on GhanaWeb TV below: