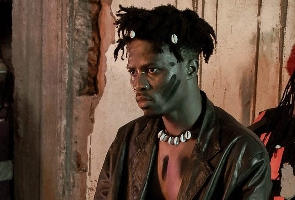 Ghanaian musician Kwesi Arthur has expressed appreciation fto his fans for their love and support during his trying times.
Kwesi Arthur came into the limelight with his hit single "Grind Day" in 2017, he went on to release his first EP "Live from Nkrumah Krom" which furthered his brand and earned him multiple recognitions including a BET nomination.

Kwesi Arthur however, went off the public space since 2019, only releasing the "Son of Jacob" in 2020 album which met mixed reactions.

In a turn of event, Kwesi Arthur took to Twitter on Spetember 19 to say a big "thank you" to his fans and fellow Ghanaians for supporting him during a tough time in his music career.

"I want to thank all of you for sticking with me and keeping me in your thoughts and prayers through everything. I really appreciate your love," he posted.

People in the comments section of his tweet quickly responded with words of encouragement and positivity.

They showed their support for the talented musician and hoped that he would soon reach the peak of his career again, where he once shone brightly.
Kwesi Arthur's career has had its ups and downs, but one thing that has remained constant is the strong support from his loyal fan base. Many people have been eagerly waiting for him to excel at the highest level in the music industry.


Thank you guys for being with me and keeping me in your prayers through it all. I love you.

— SON OF JACOB (@KWESIARTHUR_) September 18, 2023
ID/SARA
Ghana's leading digital news platform, GhanaWeb, in conjunction with the Korle-Bu Teaching Hospital, is embarking on an aggressive campaign which is geared towards ensuring that parliament passes comprehensive legislation to guide organ harvesting, organ donation, and organ transplantation in the country.
Click here to start the nomination process for the 2023 GhanaWeb Excellence Awards