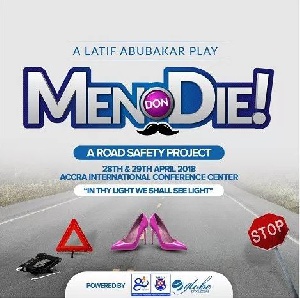 Playwright and CEO of Globe Productions Latif Abubakar is embarking on a road safety campaign with his latest play.
Dubbed 'Men Don Die', the road safety campaign, which is in partnership with Presec@80 Anniversary and the National Road Safety Commission, is set to thrill patrons as well as create awareness about the need to be cautious on the road.

The play is also expected to educate people on road safety and highlight the negative effects of road accidents on the society and nation building.

Speaking to journalists in Accra, Latif Abubakar promised patrons of spiced-up performances and entreated all to attend with families and friends.

"That's precisely the mission of Globe Productions, to keep touching lives and making people happy. To help them appreciate life by distressing themselves from the exigencies of the times," he indicated.

The play tells a story of two couples who set off on a long journey in an 'aro-glass'; one couple on a journey for their marriage ceremony, and the other on their way for a divorce.
Their plans get altered as their vehicle gets stuck in the middle of a road. What then becomes of their fate?

Abandoned and lost, the ensuing events expose their characteristics and objectives in the play.

The latest play features actors such as Adjetey Annan, Eckow Smith-Asante among many others.

Last year, Globe Productions successfully promoted social change through drama on issues such as Galamsey, First Aid and non-violence, which attracted about 20,000 patrons across the country.

'Men Don Die' shows on April 28-29 at the Accra International Conference Centre with two shows each night, 4pm and 8pm respectively.