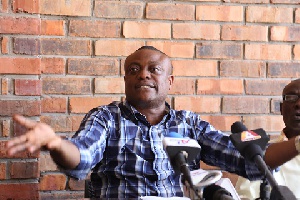 Fri, 1 Dec 2017 Source: Flex Newspaper
Celebrity lawyer, Maurice Ampaw has disclosed to Flex Newspaper/www.flexgh.com in an unshared interview that Ghanaians should stop attacking Ebony's way of dressing as he sees the act to be hypocritical and annoying.
The lawyer fumed his displeasure at how the young musician's career is being frustrated by people (Ghanaians) who before now hailed other musicians for showing certain parts of their bodies to the public and even though he believes showing too much nudity is bad for young ebony and her brand, he is not happy the way people keep piercing the young lady with words that might end up frustrating her to abandon her God given talent.

"I think what we need to do is to protect her talent. The girl has talent, she is contributing to the creative art industry. She is paying her tax and developing the whole country as a whole. Hence, we shouldn't kill her with criticisms and hate. What we should rather do is to talk to ebony with strong delegates of opinion leaders that may include her church pastor. We should let her know how much we love and appreciate her talent. But again, she should know that, too much of everything is bad and everything done excessively ends up being poisonous. Branding is very important but there should be a better way to maintain it and so if she can slow down a little bit on her costuming, it will help her brand a lot" he stressed.

He further explained that "If the first approach fails, the police should invite her together with her management and lawyer and read the law of obscenity and indecency to her, her lawyer and management. Lawyer Ampaw apportioned the blame on society for hailing nudity all these years.
"I don't blame ebony for what she is doing; I would rather blame society for allowing such sexual impurity all these years. It is not only Ebony who trends with nudity. Go to the internet, social media and even on our newsstands where people (ladies) go nude and make money and fame. There is this musician in Ghana called Kubolor. How many times haven't we seen him go nude in his videos or on TV? The likes of Christabel Ekeh, Rashida Black Beauty, Abena Korkor are all young ladies who gained attention through exposing their bodies (nudity) on the internet. Why should Ebony be the point of reference when all these individuals were left to go free? I believe we are not being fair to her (Ebony)" he further stated.

He continued to express this "I don't blame Ebony for her level of nudity. I would rather blame society for allowing and accepting sexual impurity all these years. We shouldn't be hypocrites. Why is MUSIGA President, Obour, acting and talking like Ebony is the first to go nude on TV? Where was he and what did he say when Kubolor showed his penis to the cameras? He asked.
Source: Flex Newspaper