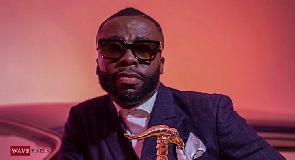 Radio presenter Andy Dosty has expressed concern about the incessant backlash against Wendy Shay as he has asked critics to let the singer be.
Ever since she hit the limelight, Wendy Shay has been hit with a barrage of criticisms and the Hitz FM presenter is of the view that it is time people stopped being hard on the RuffTown artiste.

For starters, Wendy Shay was jabbed for 'imitating' the late Ebony even before she found her feet in the music industry. She was also heavily trolled and tagged 'ugly' after a picture of her without makeup surfaced online. On a number of occasions, the 23-year-old suffered a wardrobe malfunction and was consequently 'torn into pieces' by persons who argued it was a stunt.

The insults on her personality was profound when the singer's response to a question on what material things she could boast of since she signed unto RuffTown Records almost two years ago was, "I can actually buy the latest iPhone that is in town right now. I mean I do have a lot of stuff, camera, iPad, I mean stuffs that every girl at my age is going to need I do have money to buy all of these things."

Notable among the persons who vehemently criticised Wendy Shay on the subject was actor Prince David Osei who described the singer as 'shallow'.

Recently, a video clip which captured her 'messing up' the lyrics of gospel song 'Ancient of Days' went viral as social media users mocked her.


Just when the flame was dousing, a conversation about her real age was held on Twitter.


If Wendy Shay is 23 then I've this few questions
1. At what age did she become a nurse in Germany?
2. how many year did she work as a nurse?
3. At what age did she join Ghana music industry
4. how many years has she stayed in the music industry
Start work

— Balo (@paa_kwesi01) November 26, 2019
Now i see say Google no dey like Wendy Shay, herh wat a picture.. Wendy Shay dis pic de3 u for delete am o else ego end ur music career..
de picture alone sef be 37 years ???????? Apuuuuuuuuuu 23 for de wer ???????????? pic.twitter.com/dfOeK3QsXS

— BlacKLove? Abeku (@Abeku26) November 26, 2019
Reacting to it, Andy Dosty could not fathom why some people take delight in attacking Wendy Shay.
"Can people leave Wendy Shay alone?" he asked. "What is it about Wendy Shay every day? Can't she be left alone? It troubles my heart when I hear these stuff. It was the same thing they did to Ebony and when she died, crocodile tears left, right, centre. Let Wendy Shay rest."

Meanwhile Wendy Shay has been responding to how she deals with cyberbullying.

She told Mamavi on Joy FM: "Sometimes, I put my phone away because I just want to be alone. I analyse the criticisms and try to take the constructive ones out and improve on them. I do appreciate the good ones but what I do is pray about it and speak to my spiritual fathers."

"I have someone like Bullet who really understand the game. I talk to him about it and he encourages me. I sometimes talk to my mother."