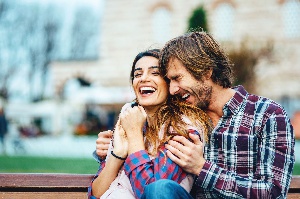 You may have the first date jitters, but when men follow just five simple rules, they are almost assured of a second date.
There is no magic to this. It's just old-fashioned good manners, but in an era of anonymous e-mail, text messaging and voice mail, acting like a gentleman can really make a lady sit up and take notice.

Phineas Mollod and Jason Tesauro, authors of "The Modern Gentleman: A Guide to Essential Manners, Savvy and Vice" and "The Modern Lover: A Playbook for Suitors, Spouses, and Ringless Carousers," have created five first date rules designed to impress.

Rule No. 1: Dress with finesse.

Instead of just grabbing something out of the closet, think about it first. Choose something that is simple, but sophisticated. Clean helps, too. "If you accessorize to reflect your every interest, you can look like the decorated hood of a NASCAR racer. From your collection of LIVESTRONG yellow wristbands, boldly-patterned ties and quirky socks, pick one–and only one– attention-grabbing item before going out," Mollod and Tesauro write in Happen magazine.

Rule No. 2: Perfect the proper greeting.
Pick your date up with a bouquet of flowers in your hand. Greet her warmly and place a slight, but lingering, kiss on her cheek. Never shake her hand. (This isn't a business meeting, after all.) However, if her body language says, "Don't you dare touch me!" then don't you dare touch her. Do offer a sincere compliment. Like what? Mollod and Tesauro suggest these:

"You're even lovelier in person" if you've met online.

"You're even lovelier than I remembered" if you met in person.

Rule No. 3: Charm her with a bit of classic etiquette

Hold the door for her.
Let her go first.

In the restaurant, give her the seat with the better view.

Stand when she leaves the table.

Escort her down the street so you are near the curb. That way you're the one who gets sprayed with puddles from a speeding bus.

"Nowadays, dating is like job hunting, and a gracious sense of manners is a bonus skill that will increase your curb appeal," insist Mollod and Tesauro.
Rule No. 4: Order with panache.

Remember that the main dish is your date, not the food. Take command in the restaurant. When the server appears and you're not ready, just say, "We're still looking, but please bring the spring rolls while we decide." However, it's too forward to order her entrée for her.

Rule No. 5: Bid her goodnight in grand style

Was it a delightful date? Go for a stroll and hold her hand. When you part, say something thoughtful. Mollod and Tesauro suggest, "What a marvelous time. I'd love to see you and your sweet smile again." What about a kiss? "A successful first date is best capped off with a lip-to-lip smooch that neither lingers too long nor leaves too soon," they write in Happen magazine.

"Then, lean back and offer breathing room. If an encore is desired, body language will be crystal clear; otherwise, bid good evening and march away confidently…there will be a next time."
Was the night a flop despite your gallantry? Then shake her hand or give her a brief hug. Tell her you had a nice evening and bid her good night. Don't tell her you'll call when you know you won't.