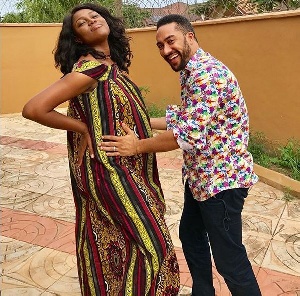 Star actor Majid Michel has sent a 'God-themed' birthday wish to colleague Ghollywood star, Yvonne Nelson
Yvonne turned 32 on Sunday, November 12, and having recently been reported to have given birth to a baby girl, it was a double celebration.

Majid took to Instagram to wish her well.

Quoting from the Holy Bible, he said, "Behold, children are a heritage and gift from the LORD, The fruit of the womb a reward." "You cannot Buy happiness. Happiness is BORN. A baby is God's opinion that the world should go on. HAPPY BiRTHDAY @yvonnenelsongh what a memorable day for all of us to behold!", he added.

This is to be expected from Majid who is now a christian evangelist.

But the photo he shared has him holding what looks like Yvonne's baby bump and one wonders if Majid knew of the pregnancy or it was a scene from a movie.
Yvonne had earlier in the day confirmed the reports of her childbirth and explained many issues concerning it.

Yvonne Nelson is a Ghanaian actress and film producer who owns her own movie production company called YN Productions.

She has lately been in a regular feature on news programmes after reports of her childbirth surfaced.

The actress, who burst onto the scene with her lead role in the movie, Princess Tyra, had initially denied reports of her being pregnant.