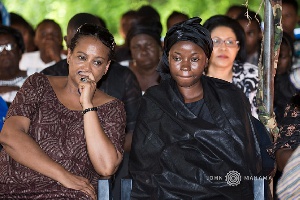 Major Maxwell Adams Mahama's family have asked Kumawood movie-makers not to use make a cinematic rendition of events that lead to the lynching of the young Ghana Army officer.
Mr. Douri Bennin Haji, an uncle of the late Major who spoke on behalf of the aggrieved family, expressed that the family would not like to see the tragic events that lead to the murder of Major Mahama reenacted in a movie. He asked Kumawood movie-makers to refrain from making the movie as doing so would only hurt the aggrieved family further.

Mr. Douri Bennin Haji, who was speaking on This Is Gospel radio show on Hitz FM, expressed gratitude towards Ghanaians for reducing the amount of videos and images of the late army officer's gruesome lynching.

He applauded the National Media Commission for its efforts to reduce the videos and imagery, and further ask Mrs. Catherine Afeku, Minister of Tourism, Arts and Culture, to ensure that movie-makers do not go ahead and make the movie.
"...when things like this happen, you'll wake up one morning to hear that there are movies - part one up to part ten - and we just want to continue to appeal especially to the Minister for Creative Arts to extend some guidelines to the movie producers and directors," said Mr. Haji.

He pointed out that Major Maxwell Mahama - who was promoted from the rank of Captain posthumously by President Nana Addo - left a wife and two young kids behind. He said that it would only prolong the family's pain if the children were to wake up one more only find cinematic renditions of their father's killing.

Mr. Douri Bennin Haji's comments echoes those of Kumawood actress Nana Ama Agyeman, who's public expressed disdain at prospects of a 'Major Mahama Lynching' movie. The celebrated Ghanaian actress said that she would be disappointed in any more director, actors/actresses, or producers who end up circulating scripts about a potential movie regarding the sad affair.