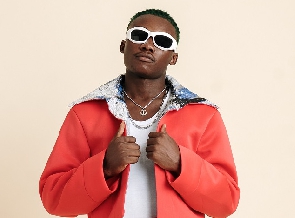 Up and coming Ghanaian Afrobeat sensation, OliveTheBoy, has lamented the stereotype put on artistes in the industry.
According to him, new artistes are predicted to be ungrateful when they finally achieve fame, thus, many of them do not get the necessary support to help them in their career growth.

"There's this thing about artists that they are ungrateful. I think. It's not all artists, but that's what they feel in Ghana here," he said on an interview with MX24 TV.

He recalled his struggles with securing support during his early days as an artiste.

Stating that few people believed in him while others felt he would be ungrateful to them afterwards.

"Before I had "Good Sin", we reached out, we wanted help and nobody believed that there was that talent that could sell enough. Plus, people also thought that the artist is going to be ungrateful to them later," he recalled.

OliveTheBoy, however, wondered why the sentiment still exists when there are legal avenues one can use to ensure loyalty from artistes.
"We do contracts, right? So mostly, I don't get why they feel like that. That's what is really challenging for me. And I think other underground artists, people that were like me before, can relate," he said.

ID/OGB

Ghana's leading digital news platform, GhanaWeb, in conjunction with the Korle-Bu Teaching Hospital, is embarking on an aggressive campaign which is geared towards ensuring that parliament passes comprehensive legislation to guide organ harvesting, organ donation, and organ transplantation in the country.

Click here to start the nomination process for the 2023 GhanaWeb Excellence Awards

Watch the latest episode of Everyday People on GhanaWeb TV below: