Entertainment Thu, 4 Jan 2018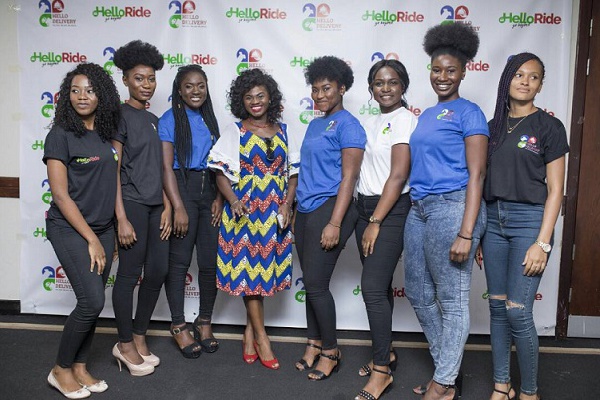 Dubai based Africent Groups has launched operations in Ghana with the introduction of an online transportation, food and delivery service App called Hellodelivery and Helloride.
The App is the first multi featured app service to come to Ghana and it had been integrated with Google map and advanced global payment security encryptions to ensure safety for users. It is currently available on IOS on IPhone and Google play store on Android.

It was launched in Accra on December 29 2017 at the Golden Tulip Hotel at a ceremony which attracted some of the country's big celebrities who endorsed the Apps for Ghanaians.

They were in the persons of celebrated actress Martha Ankomah, Belinda Dzattah, Jacinta Ocansey, Samira Adams and Lilian Larkai among others as well as comedian DKB who MC the launch.

"I have tried the service and it is amazing. Their food delivery was that fast. I am recommending it to everyone. People should download Hellodelivery & Helloride and try it," Belinda Dzattah said that ceremony.

The App is well established with a multi features app development, offering online ride hailing services, online food and delivery services, including groceries and laundry online ordering services.

"Helloride has Africa and Ghanaians in its first priority to offer great, safe and efficient services. We have put together great offer and better benefit for our partners and vendors in accessing better margin and wider sales opportunities," - Africent group founder - Razaq Lawal J indicated.
"There are great and amazing features for our users and drivers on the app for their comfort and convenience," he also added when he highlighted on the job opportunities the service would be offering to Ghanaian youth.

The Africent group has also been operating in other African countries like Nigeria aside Ghana. It is a diversified company that engages in value- added services, online advertising and other marketing and business development services.

Its value-added service involve online and mobile apps services, instant messaging and chat services, ecommerce platform service operations and community value- added services.

The HelloDelivery and HelloRide are its twin online providers of competitive merchandise delivery and personal transport solution for African markets and its communities .

To sign up as partner/ Driver -vendor - Restaurant, Grocery store and laundry should visit- www.hellodelivery.org
Source: Francis Addo