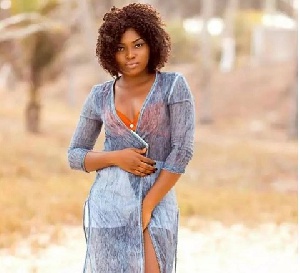 A young lady known on Facebook known as Golda Adukwei Bulley has gained matchless fame on social media with her video mimicking Nigeria's Funke Akindele's role in hit sitcom, 'Jenifa's Diary'.
Apart from her matchless impersonation of the Nigerian actress, Golda Adukwei Bulley also possess some striking resemblance to the popular actress.

One of her videos which was sighted by YEN.com.gh has reportedly racked up over 15,000 views and 3000 retweets on social media platform Twitter.

The young lady was seen in the video in the company of her friend as she impersonated the Nigerian comedian in her usual 'bad English language'.

Speaking in an interview with The Daily Heritage after going viral, Golda Adukwei Bulley revealed that she had received an unprecedented number of calls and offers to star in movies.

She added that she was however new in the entertainment industry but had her own brand.

Speaking on how she was able to perfect her "Jenifa" skills, the young lady revealed that she was a huge fan of the Nigerian actress. Golda Adukwei Bulley added that she painstakingly practised the role of the Nigerian star for months by 'copying' the way she talked, walked and even dressed.
She praised the Nigerian actress for her flawless effort in playing the comic character.

Funke Akindele's impersonator reiterated the fact that she had her own brand regardless of the fact that she had become the perfect representation of the Nigerian comedian in Ghana.

Her almost unidentifiable act to that of Funke Akindele has got social media amazed as to how she perfected the art of impersonation.

Golda Adukwei Bulley said she was a budding comedian and wanted to make a name for herself in the world of comedy.