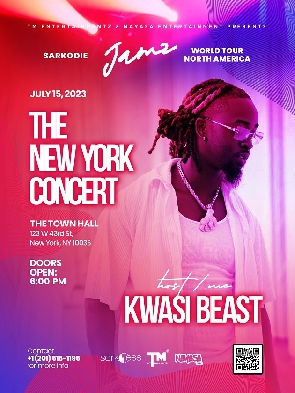 Thu, 25 May 2023 Source: Nii Atakora Mensah
With days leading up to Sarkodie's upcoming Jamz World Tour in New York, exciting details about the MCs for the event have emerged.
The main organizer of the concert, Terry Masson has revealed it would be an unforgettable experience with Kwasi Beast and Ini Cash, as host MCs for the concert, who will be steering affairs on the nite.

Kwasi Beast will be taking his jubilant personality to the Town Hall venue in New York for what he's describing as the "biggest" African music concert to happen.

Speaking on the upcoming concert, the 'Season 7 of MTV's Are You The One' reality show actor said in a statement: "I can't wait to introduce and watch Sarkodie take the stage with his vivacious energy and standing together with today's hottest and beloved musicians".

Ini Cash has also been in demand, no wonder TM Entertainmentz enlisted the comedian and internet sensation from Nigeria to co-host the show slated for 15th July 2023.

"This will be the biggest music concert show in history. It's truly an honor to host and I can't thank Sarkodie and the entire TM Entertainmentz enough for this opportunity. We're going to celebrate music, culture, and entertainment, honor the biggest stars from Africa, and make this an unforgettable night full of laughs and surprises", Ini Cash said.
The North American tour commences from July 15th to September 3rd across 11 major cities in the United States and Canada.

Tickets are selling on Ticketmaster here for $50, $70, and $100.

Sarkodie's New York Edition of Jamz World Tour is proudly brought to by Nayasa Entertainment, TM Entertainmentz & Sarkcess Music


Source: Nii Atakora Mensah