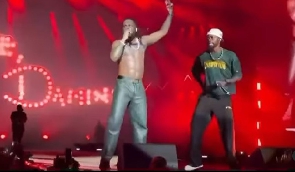 Ghanaian musician Black Sherif recently took the stage at Afronation in Miami, captivating the audience with an extraordinary performance on May 27, 2023.
Nigerian Afrobeats star Burna Boy extended a special invitation to Black Sherif, resulting in a mesmerizing collaboration that left the crowd in sheer amazement.

In an interview following the show, Black Sherif expressed his admiration for the city of Miami, likening its attractiveness to that of a video game.

He marveled at the towering buildings, which he had previously only encountered in virtual games.

Black Sherif further conveyed his genuine excitement about the experience, emphasizing the warm reception he received from the audience.

"It feels so real, and I have been telling everyone that even the city feels like a video game because it is only in video games that I see taller buildings like this. It's crazy... and the people here and the energy here is mad... you know, like getting on stage and getting people to sing back to you... I love it, and I'm so grateful every hour," Black Sherif shared in the interview.
Afronation Miami has become a highly anticipated event for African musicians to showcase their talents to a diverse audience. Black Sherif's inclusion in the lineup was met with great enthusiasm, and he and Burna Boy took full control of the stage, commanding attention from the very first note to the final beat.





Meanwhile, watch a snippet of GhanaWeb TV's latest program that focuses mainly on Everyday People below:




You can also watch the latest episode of People & Places on GhanaWeb TV:





Meanwhile, watch the latest episode of SayItLoud on GhanaWeb TV below:




Watch the latest edition of BizTech and Biz Headlines below:






AM/GA