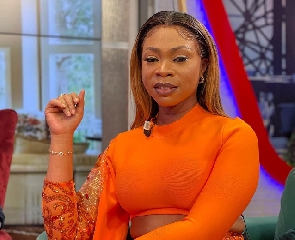 Diamond Michelle Gbagonah, popularly known as Michy, has set some high standards for any potential suitors who may have their eyes on her.
In an interview with Graphic Showbiz, the Ghanaian actress and TV presenter recently shared her preferences for an ideal partner.

According to Michy, she is looking for a man who is financially stable and willing to spend money while stressing the importance of her partner owning a house and not being in the entertainment industry, as she values her privacy.

In her words, "I used to believe that I had to support my man with the little I had, but those days are over for me. My man must be financially sound and willing to spend. At least, he must own a house."

Michy also spoke about her experience as a mother and the challenges that come with it. While she enjoys being a mother, she admitted that it can be frustrating at times.
She highlighted that putting a child to sleep and running around can be very demanding, but she wouldn't have it any other way.

When asked if she plans to have more children, Michy revealed that she would like to get married first.

"Majesty is seven years old, and it would be nice to have another baby, but not until I get married," she said.

ADA/BB