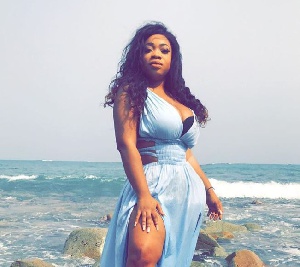 Ghanaian actress, Moesha Boduong, known for flaunting her huge backside on social media is at it again.
Moesha has posted a video of herself at the beach twerking and it seems fans can't stop talking about it.

In the video posted to her Instagram page, Moesha also announced her next vacation destination' this time around right here in Ghana.

According to Moesha, she has just realized that Ghana's beaches are clean and fresh, therefore, it is best she spends her next vacation touring the local beaches.

Moesha Boduong wrote: "Ghana is beautiful love it here #Ghanatourism # clean beaches and fresh seafood."

In another related post where she was still at the beach, Moesha wrote: "Happy Sunday..never knew Ghana had beautiful beaches and soo clean my next vacation is going to be here #Ghana tourism ??."
As usual, her twerk got some her followers talking: One female fan by name Hanana Abena said Moesha could kill with her 'bumbum' adding that she herself loves them.

Abena wrote: "Moesha u ll kill me with your butt mmm lol, lovely to have them."

A male fan by name Atsu also confessed that he had been monitoring Moesha's Instagram page for such 'juicy' videos and complained about the duration of the twerk which according to him is "too short".

Atsu wrote: "Moesha why u no show all the video of the ass shaking? Make u no dey tease us like that ooo cus some of us that's our motivation for following u here."

Moesha Bodoung, a leading actress in the 'Cocoa Brown' television series has earned the nick-name 'social media queen' because she has often put up all her activities on social media.
Late last year, she confessed that she would not have a career without social media, adding that "social media has made me somebody."

Recently, she was caught with Davido in a nightclub and the two were said to be enjoying each other's company.

Controversial Moesha is also a photo model aside from being an actress.