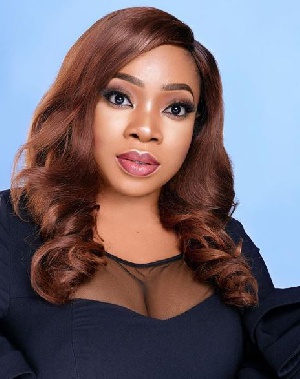 Moesha Babiinoti Boduong's interviews with Delay and Christiane Amanpour have managed to find their way into a final year examination for students of the Ghana Institute of Journalism with the students being asked to analyze the 2 events.
In a report sighted by YEN.com.gh on Kasapafmonline, it was reported that Moesha Boduong's name popped up in Section C of the final year exam with the students being tasked to analyze the interviews granted to the two show hosts.

The Level 400 Ghana Institute of Journalism students as part of their requirements to complete school, had to take on the hurdle of giving an assessment of Moesha's interviews that got people from all walks of life talking.

Moesha Boduong struck a chord in Ghanaians, especially the ladies, when she stated emphatically that women were 'incapable' of singlehandedly taking care of themselves in an interview with CNN's Christiane Amanpour.

The Ghanaian actress and model is noted to have said, "Ghana our economy is such that you just need someone to take care of you because you can't make enough money as a woman here," she said.

"When you want to get an apartment, in Ghana you pay two years in advance and I just started working, where will I get the money", she added.

In explaining her reason for sleeping with a married man, she answered, "He takes care of me, my financial stuff, my apartment, my car, my rent, everything."
Her comments gained nationwide condemnation with many women coming out to express their disappointment with the actress' choice of words.

Among the many people who waded into the controversy and made it clear that the comments made by Moesha were unacceptable included Pastor Mensa Otabil, Confidence Haugen, Grace Omaboe, Rosemond Alade Brown and Vicky Zugah.

The actress, after taking all the bashing, came out to apologize to Ghanaians for her comments.