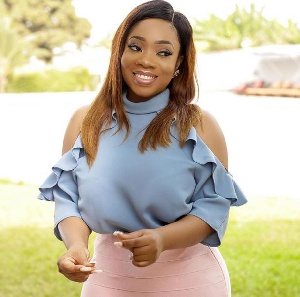 Embattled Ghanaian actress Moesha Boduong seems to have recovered very well from the incessant social media attacks following the appearance of an interview she had with CNN online though.
In her latest social media activity, Moesha has dropped a new stunning photo of herself.

Wearing an ash top which she tucked into a body-hugging pink skirt, Moesha enhanced her looks with an infectious smile which could melt the hearts of all those against her.

And she captioned the photo "it feels great to be alive," suggesting she was still grateful for her life even if she is under fire.

Moesha, often in the news for controversial reasons, has received a lot of bashing in the last 48 hours over her interview.

In the interview, Moesha claimed that Ghana's economy was so bad that women cannot survive without literally sleeping with men for financial help.
Using herself as an example, Moesha revealed that she was sleeping with a married man in order to pay her bills.

"In Ghana, our economy is such a way that you need someone to take care of you. You can't make enough money as a woman here. Because even when you want to get an apartment, in Ghana they take two years' advance and I just started working where will I get money to pay?" she told Christiane Amanpour.

Shocked by the revelation, CNN's Christine Amanpour asked her "are you basically telling me that you are having sex with this guy to pay your rent?"

Moesha responded saying "because he can afford to take care of you. He takes care of me, my financials, my apartment, my car, my rent everything."

However, her comments which also extended her sleeping with men for money lifestyle to Ghanaian women, in general, has irked a lot of Ghanaians who have condemned and attacked her for demeaning other hard working women in the country.
After a full day of suffering attacks, Moesha rendered an official apology to Ghanaians for her controversial comments.

In a lengthy Instagram post on Friday, the embattled actress stated that she was humbled by the comments of Ghanaians and noted that upon reflection she could have done better.

Though many are still bashing her, Moesha seems to have moved on and is bent on living her life as her new photo suggests.