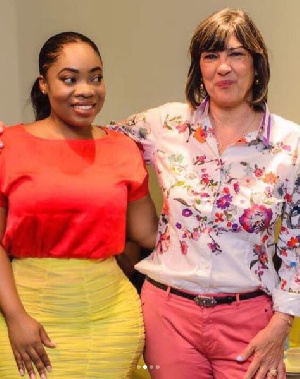 Ghanaian actress and photo model Moesha Bodoung has revealed that international media giant, CNN, has hosted her.
She disclosed that the cable news network hosted her last year, adding that the network's journalist Christiane Amanpour conducted the interview.

She shared a photo with the journalist with the caption (unedited): "Dear God I am most grateful. In the last few years, I have erred and I have learned, I have cried and I have laughed, moments of darkness and moments of sunshine but in all these, I have learned that to stay through to self is a divine enhancer. The Universe will conspire for your good, if you can just stay true to self!

Last year I had the honor to sit with a Global Media Giant; CNN's Cristian Amanpour! What a Might God We Serve!! Humbled and Excited.
Catch me on CNN soon! Let the haters hate and let God keep blessing you. Daddy I have made it I remember I once told my dad I will be on Cnn and It came to pass ".