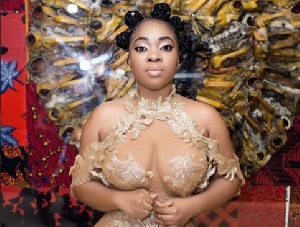 After she was hit with a barrage of criticisms by a section of the public for suggesting that Ghanaian women date married men for their subsistence, actress Moesha Boduong has deleted the video clip which captured those comments from her Instagram page.
The actress said on CNN that her motivation for dating a married man, just like other women in Ghana, is because the economy has worsened.

"In Ghana our economy is such a way that you need someone to take care of you. You can't make enough money as a woman here. Because even when you want to get an apartment, in Ghana they take two years' advance and I just started working where will get money to pay?," she said.

The host, Christiane Amanpour who looked shocked by Moesha's response asked: "are you basically telling me that you are having sex with this guy to pay your rent?"

"Because he can afford to take care of you. He takes care of me, my financials, my apartment, my car, my rent, everything," Moesha replied.

On what the man expects in return, Moesha said, "He expects me to be loyal and just to date him only and give him sex when he wants .You can't say no. You have to give him what he wants otherwise he is going to think you are cheating on him."


Some Ghanaians who were outraged by her comments took to social media to express their disappointment. In fact, she was labeled a prostitute.

"Moesha, you sit with #ChristianeAmanpour and talk like this? Knowing your message is to the going to the world? Say it's a personal choice! You blame on Ghana Economy? You Sell Ghanaian women this shallow and materialistic? Smh. Do not sell your country short!" fumed singer, Eazzy.

Others, including Adom FM's Captain Smart jumped to her defense as they argued that Moesha was being real.

He further indicated that it was time leaders paid attention to solving the incessant unemployment rate as many graduates and professionals are jobless.
"Even nurses and teachers are still home. They've not been posted. What do you expect them to do? In this country, people cannot even take care of their own children. We must be proactive and pragmatic and begin to work; better the life of the ordinary" he suggested.

Captain Smart indicated that critics of Moesha are being hypocritical because what she said was indeed the reality.

"Is what she said a lie?" he queried. "We live in a country that they are demanding two-year advance from you for rent. Nobody is talking about it. This lady goes to the international stage and says it and we are pretending as if it's not happened anywhere before. She is right. We should have a rent policy."

As Abrantepa.com monitored for a possible reaction from Moesha, we noticed that the said video had been deleted.