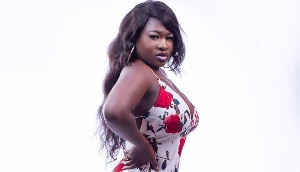 Songstress Sista Afia has shown her admiration for Moesha Boduong for coming out boldly to apologise to Ghanaians after her comments on CNN that "Ghana's economy is so bad that women are compelled to have sexual affairs with men just to survive."
Speaking in a press statement on Wednesday, she refuted claims that her latest song, 'Slay Queen', is aimed at attacking Moesha.

She described the apology as an act of "bravery" and added that Moesha has earned her respect because of that decision.

"I felt so bad for Moesha because I know how it feels when the whole of Ghana starts attacking you for some comments you make on interviews and I respect the fact that she went ahead to apologise to us, that is bravery," she stated.

The 'Jeje' hitmaker also continued to clear the air on claims that her new song is about Moesha.
"As to why 'Slay Queen' was released, I am a musician and I like to follow trends, and since 'Slay Queen' has been one of the popular terms in the country, I decided to get a song by that title. However, 'Slay Queen' was written and produced way before Moesha's comment on CNN became public. Just that, we had a lot in our camp that slowed the release, so it's never a reply to Moesha or directed to her," she explained.

Interestingly, Sista Afia has also released a video for the new song depicting the 'actual' lives of the so-called 'slay queens' in Ghana.