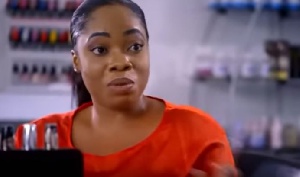 The self-professed mistress, Moesha Buduong after being chastised by no-nonsense Ghanaians following her infamous interview at CNN has hinted on capitalising on the saga to produce a movie.
Moesha speaking to Joy News' MzGee posited that she has plans to produce a movie dubbed 'Love and Sex', with the idea emanating from the CNN interview she granted and its accompanying backlashes.

"I'm launching my foundation soon and will soon produce my own movie. I'm still writing the story so everyone should expect my new movie titled 'Love & Sex'. It's going to be about me and everything on CNN so people should watch out and yes I'm going to turn that into a fortune," she revealed."

As a reminder, the actress in question came under a heavy criticism on social media after she told CNN's Christiane Amanpour that her motivation, just like other women in Ghana, for dating married men, is because the economy is tough. An excerpt from her interview reads;
"In Ghana, our economy is such a way that you need someone to take care of you. You can't make enough money as a woman here. Because even when you want to get an apartment, in Ghana they take two years' advance and I just started working where will I get money to pay?", the actress added in the interview.