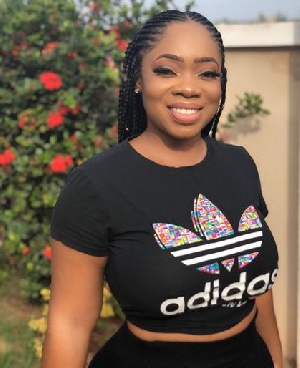 Controversial actress and slay queen Moesha Boduong was recently accused of bleaching her skin to supposedly make herself more attractive. It looks like she indeed she bleached her skin as Adom Tv's Sister Sandy had affirmed this.
According to Adom TV's Sister Sandy, Moesha Buduong's recent travel had nothing to do with sightseeing but she rather went for a inject her self with a skin bleaching agent.

After, Moesha Boduong was trolled on social media weeks ago after she posted some photos which made people suggest that she was bleaching Moesha Boduong responded to these speculations by claiming that the photos were edited hence her glowing skin.
Sister Sandy, however, claims that according to a close source, Moesha Boduong will travel again next week for another top up of the skin glowing injection to have a brighter skin.