Tue, 29 May 2018 Source: Sabina Nunoo
There is a need for close collaboration and exchange of content between a journalist in Africa and the west in order to change the negative perception about Africa, this is according to 3FM's Miriam Osei-Agyemang.
She bemoaned the fact that, even though the number of Africans who are achieving great heights in various fields of endeavour in Africa and the diaspora is increasing, the dominant image about the African continent is still negative.

The award winning host was sharing her experience from the just ended 2018 Africa Day celebrations in Hamburg Germany where she was nominated to join other journalists from Ghana to share and exchange ideas with fellow media practitioners in Germany.

As parts of the Journalism seminar, the participating journalist were given the opportunity to meet with key media house within Hamburg, including publishers of the Hamburger Abendblatt (Hamburg Evening Newspaper), which focuses on news in Hamburg and its environs, the Taz newspaper (a privately owned newspaper) and well as tour of the city of Hamburg.

The Africa Day celebration is an annual colourful multicultural celebration organised by the Intercultural Migrants Integration Center (IMIC) under the leadership of Mrs. Sylvaina Gerlich to celebrate cultural diversity amongst Africans living in Germany. This year's festival run from 24th to 27th May and was characterised by a journalism seminar, business and investment forum, food, clothing, African artifacts and musical concerts. It was under the theme 'was under the theme @Culture, education and Business'.
The Africa Day 2018 stages was graced by soulful Ghanaian artiste YaaYaa and veteran highlife musician Nana Acheampong. Other artistes who performed this year included, the Citizen of the Sun band, Kunle, Maj, Ras Kobby Lion, Panta, Stanley Rubyn and a host of others artistes of African decent.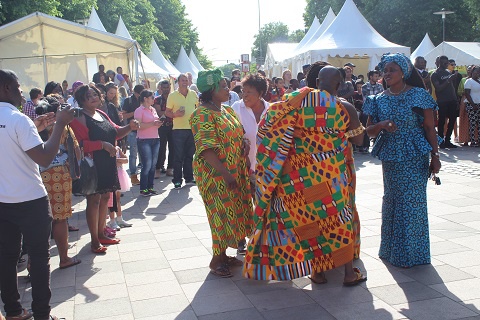 Source: Sabina Nunoo