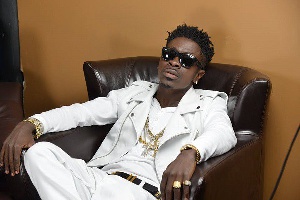 Dancehall King, Shatta Wale has said most players in the Ghana Music industry are of the view that he will be out of the music scene very soon.
However, the Self-acclaimed Dancehall King believes he has a few more years to reign as a 'Champion' in the Ghana music industry before he hungs his 'mic' for other to take over.

Shatta Wale in an interview indicated that "People feel Shatta will fall pretty soon and that's a lie. I keep telling my manager that I need to retire by 2020. With all the controversies, I want people to realize this guy (Shatta) has a future".
He indicated that hitherto this period, the youth in music were not advised on the realities of life but were rather made to lie about themselves; reason why most artistes end up as paupers because they never invest or save some of their monies.

He said ""The predecessors didn't educate the youth well. I don't brag but whenever I get money, I save a lot. I make sure I look for the right things for my career. Gone are the days when artiste sits on TV and brag about things they don't have. That's why I put my name on every car I have. I am taking advantage of what I have now and my fame".