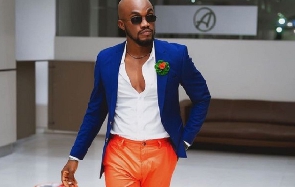 Ghanaian musician, popularly known as Mr Drew, has blamed the media for popularizing lookalikes.
During an interview with DGN TV, Mr Drew noted that while artistes struggled for media attention, look-alikes enjoyed the rare opportunity to appear like celebrities.

"If we stop giving these lookalikes attention, all this will stop. For now, there is nothing I can do since we are still giving them attention and making them feel like what they are doing is right.

"If we stop giving them attention, they will put a stop to impersonating us," he shared his thoughts.

Earlier this year, four young men claimed to be lookalikes of popular Ghanaian musicians Kuami Eugene, Mr Drew, Medikal, and King Promise.

The four men, who identified themselves as lookalikes of the famous musicians, went viral after a video of them surfaced online.
The resemblance of the three young men to the celebrities matching their hairstyles to their fashion caught the eye of Ghanaians, who found them amusing while others didn't.

On April 16, 2023, at the Vodafone Ghana Music Awards Xperience concert, which was held in Ho, Medikal addressed the impersonation issue of the same four Ghanaians cashing out money using the images of himself and other artistes.

During his performance at the Vodafone Ghana Music Awards Xperience 2023, Medikal made it clear that these individuals are not to be mistaken for the real artistes and called them impersonators.

"Those look-alike guys are impersonators. That's what they are," Medikal stated firmly, "If you want to make it in this life, don't be like someone else because you can be better than them. Be your pop ur f**king self."


Watch the latest episode of Nkommo Wo Ho below:





ADA/BB