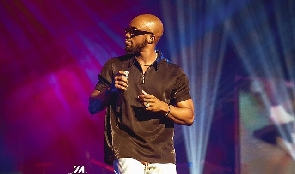 Ghanaian musician, Andrew Nii Commey Otoo, professionally known as Mr Drew, has revealed that he did not have a dedicated management team during his tenure with his former record label, Highly Spiritual.
According to a report by yfmghana.com, Mr Drew stated that he has been operating as an independent artist since the beginning of this year following the conclusion of his contract with Highly Spiritual.

"I prefer not to delve into the details of what transpired between me and my team at Highly Spiritual. Although Highly Spiritual was the label, my team there was not a personal management team as many believed," he explained.

Contrary to popular assumptions, Mr Drew clarified that his team at Highly Spiritual did not function as a typical management team.

Instead, it consisted of a manager and a group of individuals who supported him.

On May 17, 2023, Mr Drew provided further clarity regarding his departure from Highly Spiritual Music, which is owned by David Kojo Kyei, also known as Kaywa.

According to him, his contract with Highly Spiritual Music expired, and he wasn't obliged to renew it.
He emphasized that this decision was driven by his desire to advance his career independently.



Watch the latest episode of Nkommo Wo Ho below:





ADA/OGB