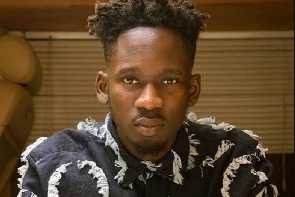 Nigerian musician, Mr Eazi, has gifted former President John Dramani Mahama's grand child with expensive designer gifts.
In a video shared on the former president's daughter-in-law's Instagram page, Asma Mahama expressed gratitude to the 'Patek' artiste for coming to see them and presenting them with pricey gifts.

Asma, the former president's first daughter-in-law, also released a video of Mr Eazi cradling the baby in his arms and lulling her to sleep.

On January 16, 2023, John Dramani Mahama and his wife Lordina melted the hearts of Ghanaians with a video that captured them playing the role of grandparents.

John Mahama shared a video as he cuddled his granddaughter Alyazia Frema Mahama, the child of Mahama's first son Shafik and his wife, Asma.
Shafik Mahama got married in 2020 to his longtime girlfriend, Asma, from Algeria.

In the video, Mahama was captured with Alyazia Frema Mahama, who was comfortably clutched to Mahama's chest and later laid on his lap while she fed from a bottle.

His wife, Lordina Mahama, also joined to feed her grandchild.

ADA/BOG