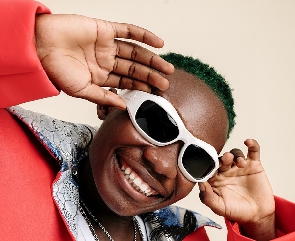 Ghana's music scene has recently been graced by the meteoric rise of Afrobeats artist Joel Ofori Bonsu, better known by his stage name Olivetheboy.
The young musician, known for his hit track 'GoodSin', has been making waves with his unique sound and infectious melodies.

In a recent interview, Olivetheboy opened up about his aspirations, journey, and the unexpected acceleration of his music career.

Olivetheboy shared that his dreams of making a significant impact in the music industry were initially set on a timeline, aiming to achieve recognition and success approximately four years after completing school.

However, fate had different plans, as his breakthrough came sooner than anticipated.

The artist confessed that he is overwhelmed by the rapid trajectory his music career has taken, and he feels both grateful and humbled by the opportunity.
Speaking on Metro TV, he stated "Well yes I think it has come to me sooner because I gave myself four years after completing school.

"I think it's two years after school now so it's sooner than expected I must be honest. As human as I am it feels overwhelming but then I'm still thankful I just feel like this is what we prayed for

The 'GoodSin' hitmaker's journey from aspiring artist to a budding sensation has been characterized by a unique blend of determination, creativity, and the ability to connect with audiences.

His distinctive sound has garnered attention not only in his native Ghana but also across borders, resonating with music lovers who appreciate his fresh approach to Afrobeats.