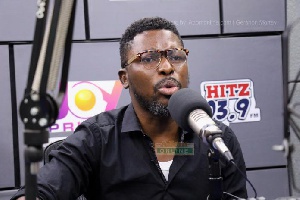 Satirist A Plus has said Bice Osei Kuffour (Obour), "a friend of mine", has been the "worst-ever" President of the Musicians Union of Ghana (MUSIGA).
According to A Plus, MUSIGA has been left messy under Obour, even though he admitted that the union had always had its struggles.

In the satirist-turned-politician's view, the "disappointing" performance of Obour during his two tenures as MUSIGA President would make it difficult for the youth to insist on leading the union.

"Old people used to be at the helm of affairs at MUSIGA until the union was given to Obour", A Plus said, adding: "He's the youngest person to have led MUSIGA, and, so far, Obour is the worst MUSIGA President I have ever seen".

According to A Plus, the poor performance of Obour, would deflate clamours by the youth to be given leadership positions in Ghana.

"When you go on social media, you see people saying: 'The youth must take over', 'the youth must rise up', but everybody must know that this is not the first time that the youth have been given leadership opportunities", A Plus told Nana Romeo on Accra100.5FM's AyekooAyekoo programme on Wednesday, 4 December 2019.
Obour served two four-year terms as President. His last tenure ended on 11 August 2019.

MUSIGA, currently, has no substantive President owing to a lawsuit filed against the electoral process by one of the presidential aspirants, Ras Caleb.

The union's First Vice-President, Bessa Simons, has, in accordance with MUSIGA's constitution, been appointed as the Acting President by the union's National Executive Council (NEC) until elections are held

The Council also appointed the former Second Vice-President, Rev Dr Thomas Yawson, as the Acting First Vice-President in the interim period.