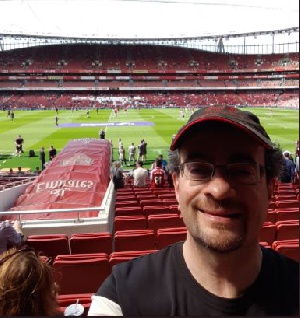 The former UK High Commissioner to Ghana, Jon Benjamin who never misses out any good social media banter, has joined in the famous 'Obinim Sticker' challenge.
The former diplomat who claims he is at the Emirates Stadium to watch a game between Arsenal and West Ham United says even though he is uncertain about the outcome of the match, he hopes for a favourable outcome as he is in an Obinim sticker underpant.

The #ObinimSticker challenge started after members of the International Godsway Church testified that the stickers from their leader, Bishop Daniel Obinim possess supernatural powers that solve almost every problem they face.

Many Ghanaians have made mockery of the stickers, claiming it solves almost every impossible problem.

Former President John Mahama also joined in the craze by recommending to his successor, President Nana Akufo-Addo to get an Obinim sticker which he says will help the President cure his "super incompetence".
Joining in the craze, Jon Benjamin posted on his Twitter handle, "I've arrived at the Emirates Stadium and will be holding my nose for the next few hours before returning to a more acceptable part of London. I don't have a very good feeling about this game. But I am wearing my lucky #Obinim Sticker underpants."

Meanwhile the game has ended and the gunners of Arsenal trashed West Ham United 4-1. Perhaps, the "ObinimSticker" has worked for Jon Benjamin.


I've arrived at the Emirates Stadium and will be holding my nose for the next few hours before returning to a more acceptable part of London.

I don't have a very good feeling about this game. But I am wearing my lucky #ObinimSticker underpants. #COYI

— Jon Benjamin (@JonBenjamin19) April 22, 2018