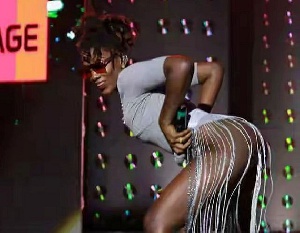 Ghanaian act, Ebony claims she didn't intentionally decide to show off her private parts at the 2017 4SyteTV Music Video Awards.
She explained on Showbiz Agenda on Zylofon FM Friday morning, the incident was a result of "wardrobe malfunction" and not because she wants attention as many people say.

The 'Sponsor' act faced a lot of criticisms after photos and videos were posted of her on the red carpet of the music awards scheme.

Days after, MUSIGA President, Bice Osei Kuffour (Obour) granted an interview where he slammed the act for her dressing.

"It is very bad. Again, in our vein as a union as much as we will try to make the public understand the role that our musicians play, that they are in an acting role… that they should be cautious of the moral values of the country that they are operating in" explained Kuffour to JOY NEWS.
"Lady Gaga could wear it and nobody would cry, will scream foul about it because maybe the environment, and the moral values of the country they are in, is different from the moral values of the country we are in now. And so we are always advising our musicians to be quite decorous… in their way of dressing."

Ebony also added that she doesn't read comments on Social Media because she is a very emotional person.

Ebony is usually critized for what many say is her lack of talent, and believe her showing skin on stage and in music videos is to push attention from her untalented self.


In July 2017, her dad was forced to defend her daughter in an interview with Graphic Showbiz.

"I am supportive of anything my daughter does and anything she wears. I am not ashamed as a father, the truth is that, I choose what she wears and I bless her before she goes out to perform. Some Ghanaians are hypocrites and I am sorry but I am not one of them," explained Mr. Kwarteng.

"I am not bothered at all. The reason is simple, I know my daughter than anyone else. What people see out there is what we want them to see and that is because she is an artiste and needs a brand that will sell. For God's sake, she is a Dancehall artiste and she wears what will make her feel confident when performing on stage. Something that will depict the genre of music and songs she churns outs."

He shared his thoughts on the the perception that his daughter is "bad" girl.
"My daughter is not a bad girl, she is very calm, loving and a respectful person. Whatever she does on stage ends there. She is a different person when she gets home."

He also spoke about the relationship between himself and his "girl as I usually call her is close to my heart."

"We are so close that I gave her the go ahead when she told me she wanted to do music. Initially I questioned her decision because, she is a very intelligent girl and was doing extremely well in school and every parent will want his or her child to get to the top of the highest academic ladder. But she insisted music was what she wanted to do. Music is where her heart is and I gave her my blessings. I couldn't have stopped her because these children are smart."

Born Priscilla Opoku Kwarteng, her song 'Kupe' helped her gain mainstream attention in the Ghanaian music industry.
She scored two nominations at the 2017 Ghana Music Awards: Dancehall Artiste of the Year and Best Reggae/ Dancehall Song of the Year .

Ebony is signed to Rufftown Records.