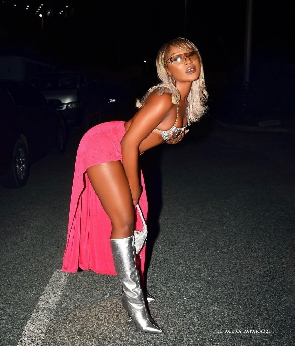 Ghanaians have observed a pattern in Efia Odo's interviews over the past few days where she candidly discusses her fallout with the award-winning artiste, Kwesi Arthur.
The socialite-turned-musician revealed in a recent interview on GTV that her relationship with the musician, which ended last year, can't be explained in simple terms.

"What we had with each other came to an end, and last year I had to unfollow him on all social media platforms. Even when you play his songs, I don't even want to hear it. 

"The thing is, I don't want to pin myself in a bottle or something without… [pauses]... it's a very complicated situation, that's it," she said.

When asked if she would ever collaborate with the artist, she said, "Business is business; if he has a song and wants to put me on it and I have a song, that's fine; it's business. That's it."

Meanwhile, the one-time number-one fan of musician Kwesi Arthur disclosed that she has resigned from that self-acclaimed position of being his die-hard fan.

According to her, she no longer adores the musician as she used to.
"Yes, I like his music... Sometimes people can do things that turn you off, and then it's like, okay, I can't really be a fan of you anymore. I still like his music, but I'm not his biggest fan anymore," Efia said in an interview on Onua FM on Wednesday.

Efia's declaration comes after Kwesi allegedly posted a photo of himself and an unidentified beautiful lady on his social media to wish her a happy birthday.


Efia Odo making Kwesi Arthur look like a horrible person with these interviews must stop.

 pic.twitter.com/SUOAJyoEhw

— OBAMA???????????????? (@1Obama_) January 12, 2023/blockquote> src="https://platform.twitter.com/widgets.js" script async" charset="utf-8">

ADA/BOG