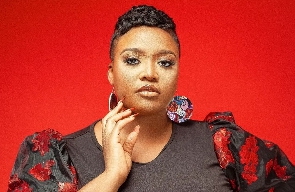 Nana Ama McBrown who until March 13, 2023, was officially a Despite Media employee, has been the talk of town after she was unveiled by Media General as its staff.
Prior to the unveiling which was characterized by razzmatazz, Gloria Akpene Nyarku, popularly known as MzGee had resigned from her position as an on-air personality with 3Music TV and hosted McBrown's United Showbiz on UTV on two occasions.

Being a sit-in host did not trigger any rumour of becoming a replacement for McBrown except that some viewers began comparing the two personalities as show hosts.

The reason MzGee's inclusion did not court rumours of an exit is that it was not the first time celebrities had taken turns to host the show in McBrown's absence. For those who have followed United Showbiz, it is a ritual especially at the very beginning of the year as reports have it that McBrown usually takes a break from work to relax and attend to some other things.

As it stands, however, MzGee is now the host of United Showbiz, a source told GhanaWeb; and although there is no official communication, it appears her resignation on March 3, 2023, was informed by her new role at Despite Media.

McBrown has since her unveiling been granting interviews on Media General platforms. Among others, she has explained why she left the Abeka-based media firm to join the Kanda-based organization with a claim that she had no contract with any media house. While some Despite Media employees have tagged her ungrateful, she has refused to react directly but has said she leaves her accusers to God.
McBrown's social media pages have been updated with flyers of Media General welcoming her alongside a picture of herself in the apparel she wore for the unveiling.


While some have been anticipating some remarks from MzGee, she has rather been sharing pictures of herself on social media. One of the pictures she shared was captioned in Ga language: "Ga m3i akusun y3 f3). Na MzGee! Na Mankpa!" – to wit, 'The Ga tradition is nice. Elderly woman, MzGee'.
The said photograph, taken on set during last Saturday's United Showbiz, saw her clad in beautiful traditional apparel as she beamed with smiles. Beneath the post were congratulatory messages from netizens and some celebrities.
The latest picture, as of press time, was captioned: "Wednesday! Mid week! Mid Month!". In that photograph, MzGee, with a straight face, was clad in a red and black apparel with earrings to complement her looks.
BB