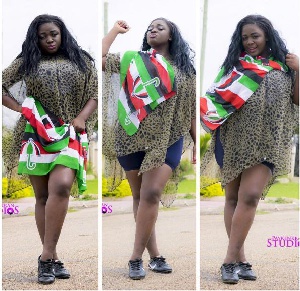 Actress cum producer Tracey Boakye is not happy with her colleagues who are accusing president John Dramani Mahama of collapsing the movie industry.
She has told her fellows in the movie industry not to blame president Mahama for the crumbled movie industry.

The actress on Solid FM in Kumasi over the weekend pleaded with them to stop announcing that the first gentleman of the land is responsible for the dying movie industry because it is false.

She blamed low sales of movies on producers who sell their films at low cost to television stations. Tracey Boakye who is campaigning for president Mahama to win the 2016 general election revealed that some movie producers sell their movie rights to television stations for Gh 300.

According to her, more movies are being produced under NDC government so she finds it worrying to hear people lament about the movie industry.
Tracey Boakye further told moviemakers to check their dealings if things are not going well for them but should not blame the president because "he does not sell movies.

"The market has gone down but my reason is some producers sell part one and two of their movies for Gh300. If you give it to them (TV Stations) and someone can watch it for free, why should they buy it?

If you don't sell the movie right, someone will buy the film. We (produces) have cheapened ourselves. What has this gotten to do with the president? Is Mahama the one selling the movies?

We even produce more movies ever since he came into power. If you are not getting a job, check your lifestyle" Tracey Boakye angrily said.