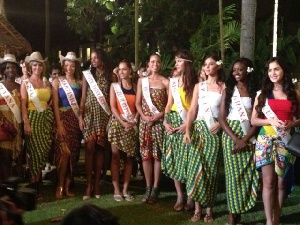 Ghana's chances at this year's Miss World event has been handed a major boost.

Naa Okailey Shooter, Miss Ghana 2012, and the country's representative at the 2013 edition, late Monday, made it to the list of finalists in the Beach Fashion category, one of six Fast Track events.


She made it to a list of eleven countries, as the only African. The other countries include Indonesia the hosts, France, Philippines, Italy, China PR, Jamaica, Moldova, Spain, Ukraine, and Brazil.


Contestants took part in a Poolside demonstration of how to tie a Sarong, and were judged accordingly.


An exciting development which should better her chances of taking a successful shot at the ultimate, she scaled through a first round list of 33 countries (out of 131), and made it to the second round, after which the finalists were chosen.

All eleven finalists will take part in a special photoshoot session on Tuesday September 10. The winner will be announced during the grand finale on September 28.


Qualifying for the finals of a Miss World Fast Track event, and winning as well, enhances a contestant's chance of making an impact in the finals.


The other Fast Track events include Sports and Fitness, Talent Competition, Top Model, Beauty with a Purpose and World Fashion Design.


This year's event is being keenly contested for. The selection of the Beach Fashion finals comes a day after a successful Opening Ceremony was held to formally introduce the contestants.