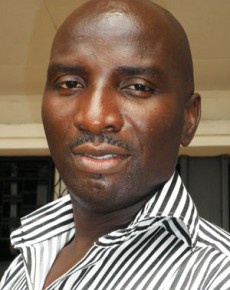 Mon, 3 Oct 2011 Source: News one
NEWS-ONE has gathered that movie producer Socrates Sarfo has added a pornographic scene that shows the buttocks and sex organ of one of his actors in his 'Sons of Satan' movie and this has generated a nasty misunderstanding between the producer and the said actor, Jerry Botwe.
The scene, quite pornographic in nature, shows Jerry Botwe completely naked in a bathroom with his manhood dangling between his thighs. It also captures the actor with an erected male organ as he was throwing a towel around his neck.

According to Socrates, after he did a critics screening of the movie at the Maxlot Hotel in Accra last Wednesday, a couple of movie producers who spoke to him said it would not make economical sense if he did not add a little bit of nudity to the movie.

He said during the movie, there was a part Jerry had to strip naked to take his bath and all this was captured on film, with an understanding that the parts that showed his manhood would be edited. But because of the feedback from the critics screening, the agreement to edit Jerry's nakedness could not hold.

Socrates, reports say, has therefore gone for re-editing and added the naked scene to the movie.

One of the technical persons in the editing room however hinted the actor about the development and when Jerry rushed to the studio to confront Socrates over the matter, the producer insisted he had paid the actor for the role and so there was nothing he could do about it.

NEWS-ONE is also informed that Socrates would go ahead and release the movie with the naked scene unedited.
A source from Socrates' office said they had however decided to rate the movie adults only. Initially, the idea was to rate it for persons age 16 and above but the new scene compelled them to raise it to 18 and above.

When NEWS-ONE reached Jerry over the matter, he said part of the contract agreement he signed with Socrates prevented him from talking to the media about misunderstandings they might have during production.

Jerry said if the issue was not over a misunderstanding, he would have commented on it.

In an interview with Jerry on a different matter just last week, he had told NEWS-ONE how difficult it was to work with Socrates: "It has been good and bad. I've learnt a lot from him but I have also suffered from society because of the negative things people say about him…I remember when we were shooting the 'Sakawa Boys' and Socrates asked me to sleep in a coffin and I refused. He got angry and slapped me but I did not let that discourage me because I have a passion for this job. It is my burning desire to become a good actor with fame, money and awards so I cannot and would not get discouraged."

When NEWS-ONE reached Socrates, he said it was normal practice for any movie producer and director to add or delete any scene from his movie after a critics screening and that he owed no one an explanation.
Source: News one