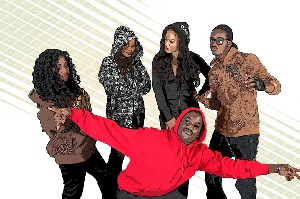 Mon, 3 Oct 2011 Source: Ameyaw Debrah
Move over Kardashians and all your spin off reality TV shows! The world of 'celebrity family' reality TV shows may soon have a new addition from Ghana as star actress, Nadia Buari and her family threaten to launch their own TV show dubbed 'The Buari Ville'.
It is not clear what the show would be about or if indeed it isn't a hoax but a promo on the video sharing website, YouTube revealed an interesting trailer starring the whole Buari family including head of the house, Alhaji Sidiku Buari. It seems the former musician/producer/athlete and his daughter, Nadia will not be the only celebrities in the family as Majeed Buari alias Jeed Rogers recently released his first major single titled 'Tell Em' featuring Mugeez of R2bees.

Sydikat Buari, who is usually seen at public events with her bigger sister, Nadia is reported to have starred in a few upcoming movies as well. Surely, if 'The Buari Ville' starts airing, there will be a lot of fun for viewers to catch up on the family.
Source: Ameyaw Debrah