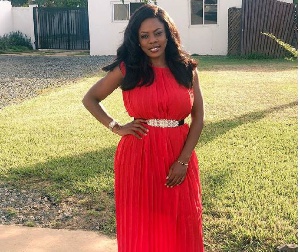 The man at the center of Nana Aba Anamoah's teenage pregnancy has spoken in self-defense over accusations he abandoned her and denied responsibility for the baby when the pregnancy occurred.
He said he is not an irresponsible person, and that he took responsibility for his seed, though he could not understand why Nana Aba and her parents failed to inform him until six months after. He said he nevertheless accepted the pregnancy and made efforts to see Nana Aba and the boy after she gave birth.

Something [which he said he could not disclose on radio] came up and there was a break in communication. After some time, he [Osebo] was impressed upon by his family and pastor to make contact which he did and they were cool until Nana Aba decided to blacklist him.

For him, it was therefore wrong for anybody to tag him as irresponsible adding that Nana Aba even changed the boy's name from Dodi to Paa Kow without telling him. Responding to critics, Osebo pointed that he was not a poor man who could not cater for his child as being speculated but it was Nana Aba Anamoah's arrogance and disrespect for him that drove him away.
Recounting the numerous times that he was blocked after making contact with his son, Osebo retorted, "If the child's mother does not want me to speak to them, should I kill myself?"

On rumours that he denied the pregnancy when it first came up, Osebo explained that he only got to know of the pregnancy when it was about six months old and he returned to Italy three days after Nana Aba and her parents came to tell him.