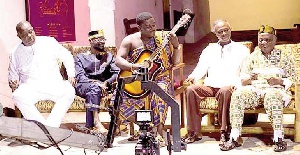 Veteran Ghanaian high life musician, Nana Ampadu, has given thumbs up to contemporary highlife star, Kumi Guitar's new song titled 'Dream'.
The new song was released on Friday, July 21 with an official video which features Nana Ampadu and other great highlife musicians such as Pat Thomas, Charles Amoah and veteran music producer, Zapp Mallet. They played various roles in the video even though they were not on the original song.

Currently, there are indications that the song is already receiving great airplay, and the video is enjoying encouraging viewership online.

During an official release ceremony at Zylofon Media offices in Accra, Nana Ampadu gave his blessing to Kumi and pledged to support his career in any way he can, especially in the area of songwriting to help revive the highlife music industry. He encouraged the media and the general public to support highlife music.

He also couldn't hide his enthusiasm with the celebrity treatment he was offered while working with Zylofon.

Charles Amoah, on the other hand, also indicated his readiness to work with Zylofon beyond the video, except the company should promise him that it won't be promoting nudity with its music videos and also invest into production for quality work done.

"If Zylofon will give me that promise I wouldn't mind working with them. For your information, I came to Ghana to produce," he said.
Although they are not featured on the original song, the highlife geniuses' appearance in the video was to support Kumi Guitar's theme of reviving highlife music in the country.

'Dream' is a beautiful highlife piece that highlights the young musician's quest to breathe a new lease of life in the genre and make it attractive for the youth.

It is produced by Zylofon Media's in-house producer, Linkin Beats, the video was shot at three locations – Cape Coast, Elmina, and Takoradi.

The video was directed by Zylofon Media's in-house video director Abass, with supervision from Enoch Attakorah.

Since joining Zylofon Media in January this year, he has also released 'Brown Sugar' and 'Problem'.