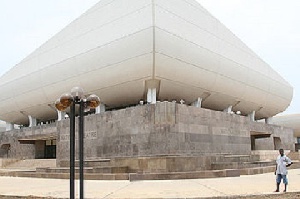 The National Theatre seem to have found their mojo in the entertainment arena after some sort of resurgence in its programming and events.
From 'Agoro', 'Tiera Pura', to 'Harriet Turbman' and others, it has been back to back impressive theatrical productions from the folks at the National Theatre.

The recent drama, 'Only Mother's Can Tell' shown last Saturday was another testament of how theatre has been revived by the National Theatre.

"Only Mothers Can Tell," was performed by the National Drama Company, a resident Theatre Company of the National Theatre to mark the 2019-Women week and a prelude to the Mother's Day celebration.

The play highlighted the unquantifiable love of a mother to her children and mankind.

It captured a young cowherd, called Zuzu, who fell in love with a girl within the same age limit named Iseda. But as per tradition in their village. All maidens after undergoing their puberty dance line up for the king to choose one as his wife.

Unfortunately for the young love birds' relationship was dealt a massive blow after the king chose Iseda as his wife at her puberty stage.
But the two love birds continued to meet secretly by a well called "Ancient Well", which was where they first met as lovers. The shared a lot of secrets using the well as a symbol of their secrecy as Iseda got pregnant for Zuzu.

But the King didn't know the Prince of his throne was not his son, neither did the Prince know the King was not his biological father. It was only the mother who could tell indeed.

The music in the play drove forward and heightened the excitement and suspense throughout.

The spectacle element, scenery, costumes, and special effects were exhilarating and made good feel for relaxation and entertainment.

Mother's were done a great deal of honour on the theatre stage and I bet you would not want to miss any other theatrical piece at National Theatre.