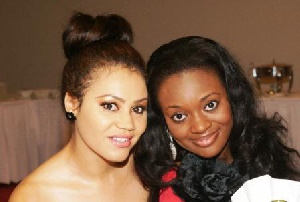 Beautiful Ghanaian actress Nadia Buari's family has finally spoken publicly on an alleged sex video pointing fingers at the actress of being involved in a raw sex section with a muscular black young man.

Speaking on Peace FM's "Entertainment Review" program last Saturday October 15, 2011, father of the actress and head of the Buari family Alhaji Sidiku Buari said there is no way his daughter will be involved in such a dirty act like what she is being accused of.


The former President of the Musicians Union of Ghana (MUSIGA) revealed that someone called him to threaten him that if he doesn't pay a ransom of $100,000, he will destroy his daughter Nadia Buari. Alhaji linked this to the alleged sex video, saying it was released on the internet a few hours after he had that call. According to him he didn't take the call serious until he heard of an alleged porn video involving his actress daughter, Nadia Buari.


"Someone called me and threatened that he will blackmail us and that we should come and pay $100,000 to him otherwise he will destroy my family's image then he can go ahead and destroy because what I want to say is that nobody can destroy anybodies image. For this family, it will be very difficult to destroy our image nobody can destroy this family. Almighty God is behind us and that is the end of it", Alhaji stressed. He said people should be careful of such crooks living with us because they can try all kinds of ways of getting money from people.


When Kwasi Aboagye, host of the program probed further, Alhaji emphasized that yes indeed someone called to threaten them but according to him he didn't take it too serious because that was not the first this was happening. "Yes someone called and this not the first time but the fact is that God has raised the image of this girl and nobody can put her down".


Asked what he has done about this since this was not the first time Sidiku Buari, said they tired investigating to track who was behind it but it all proved futile because at the end, they found out that even the mobile number they used is a fake number and the video was released on the internet making it difficult to trace the source. "So we saw that it was a waste of time but I only pray that whoever is doing this, may God forgive him because the person doesn't know what he is doing. There is no way that person can succeed in whatever he is doing because whatever he is doing is rather raising our image".

As to why they have been silent over such disgraceful allegation all this while, Alhaji said because there is no truth in what people are saying and that it is just someone out there who wants to scandalize his family. He added that they couldn't come out to say anything because nobody had publicly mentioned his daughter's name as the one in the said video even though he is very much aware that most people were trying to link Nadia to video.


Asked whether he has personally seen the said sex video he said "No way! I wouldn't like to see something like that. My daughter is a very decent girl and I want everybody to know that. When she is acting that is different because that is her job there is no way Nadia will do such a thing this is unbelievable".


Alhaji revealed that Nadia just finished shooting a movie in Abuja, Nigeria and she is expected back home this week. Asked if the news the news of her alleged involvement in a porn video has gotten to her, Sidiku said the news has gotten to her but he and other people close to her are giving the "Beyonce" actress guidance as to how she should handle this, adding that it has not affected her in any way. "Nadia does not even take this thing serious because she knows that the people are just waiting their time".


Touching on reports that the Buari family is coming up with a reality TV show based on what goes on in their family title "The Buari Ville", he confirmed that yes his family is about to hit the world with something big on Television next year, but he refused to give details.


Alhaji said there are lots of stars in his family now ranging from Soccer stars, Musicians, Movie stars, Beauty Queens among other so the world should just watch out. About a teaser of the upcoming show which leaked on YouTube, Alhaji admitted that it was put on the internet by Nadia Buari's kid brothers who just wanted to give hint of what was coming up.

Peacefmonline.com investigations revealed that the lady in the 60 seconds video is not actress Nadia Buari but rather a white Caucasian-American porn star with brown eyes and auburn hair called Roxie West who has a striking resemblance with the light skinned Ghanaian actress. Peacefmonline.com's further probe confirmed Roxie West's identity revealing that the international porn star actually sent a request to Blacksonblonds.com, an international porn web-site that she wanted to have a sex bout with a strong black man, which resulted into the said porn material.


The 60-second sex video is an edited part of a 22-minute long professionally shot porn movie, said to have been shot about three years ago. According to unconfirmed reports an event organizing company is making efforts to bring the porn star who has suddenly gained notoriety in Ghana into the country by December this year.


http://www.ameyawdebrah.com/