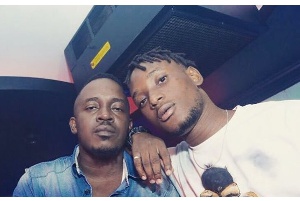 Ghanaian dancehall artiste, Epixode, has been hanging out with some Chocolate City artistes and MI Agbada in Nigeria, following earlier rumours that he was planning a big collaboration out there.
He shared photos and a video of himself and MI from a location in Nigeria before the weekend.

However, he was quiet on whether there would be an upcoming collaboration with the artiste – who is famed as one of Africa's best rappers – or perhaps he (Epixode) is also joining Chocolate City.

The talented dancehall artiste is by far one of Ghana's best musicians and he deserves the listening ears of Nigerian music fans.
His genre of music is a melodious mixture of Reggae, Dancehall, Hip Hop and others like Zouk, infused with varied Caribbean genres, boxed into one.

Epixode is a versatile artiste. His unique style and diverse melodies are ample traits that prove the density of his persona as a musician.

Currently, he is among a few Ghanaian artistes who have been nominated for the 2016 Africa Youth Awards, after winning the Most Promising category last year. This year, he's been nominated for the Next Rated category.