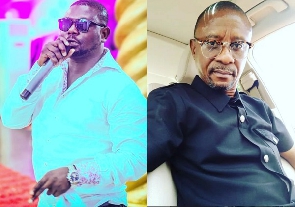 Gospel singer Erico has levelled some allegations against popular Ghanaian producer, Bandex, the man who first produced his songs after winning TV3 Mentor.
Now Ark Erico, the season three winner of Mentor, a music reality show, has said that he didn't make money at the peak of his career.

On the account of Erico, his former boss, Bandex, who produced music for several artistes in Ghana worked without a contract adding that there was no agreement that stated the benefits musicians were expected to gain from CD sales.

At the time, the young singer who stood his ground and called for a fair share ended up with chicken change.

Erico in an interview with Kwaku Manu Manu on the 'Aggressive Show' announced that he had to beg for money at a time when his music was being played on radio and television.

"Bandex never give me huge money during my time with him. There was no agreement or contract when I worked with him. He can go like, there is Waakye or Banku, let's go eat. I hope you understand, there was no contract. During our productions, we never sat down to deliberate on proceeds or on how things were going to be executed.
"Those who were already working with Bandex equally didn't have a contract and so I couldn't call for that. I wanted to initiate that. When I met a man called Socrate Safo, he made me aware of the benefits of music. To be honest, the biggest money I got from Bandex was not up to GH¢500...you can confirm this from Socrate," he revealed.

Erico recalled the time when he had to live from hand to mouth despite his popularity.

"I was always hungry even though I was famous and had hit songs...I was supposed to get my cut from CD sales but that never happened at least 20% or 30% ...I realized that my colleagues, Cee and Isaac never had a contract...I used to beg money from Socrate and he didn't understand why I was broke...when I stood up to Chairman (Bandex), he saw me as a rebel leader and so I had to leave...I, however, give credit to Bandex for helping me get my hit songs. God bless him," the 'Twen Nyame' hitmaker acknowledged the efforts of his former producer.



Watch the latest episode of Nkommo Wo Ho below:






OPD/BB