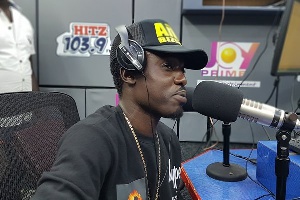 Tema based rapper Criss Waddle has slammed President of the Musician Union of Ghana (Musiga) Bice Osei Kuffuor aka Obuor accusing him of doing nothing to promote both the music industry and the well-being of musicians since he assumed the presidency.
According to him, no substantial achievement in the music industry can be credited to Obuor for his eight years of stewardship.

"Obour has done nothing, what has he done, not that I know of. If he's done something I stand to be corrected. He's done absolutely nothing profitable." He told Andy Dosty on Hitz FM.
Criss Waddle added that they (Musicians) had immense trust in Obuor being one of their own and were confident that he upon assuming power will promote the welfare of musicians but sadly he's woefully failed his colleagues.

"We believed in Obuor because at the time we felt that this guy had been with us and so when he gets to the Presidency of Musiga he'll fixed all the things we had been complaining about, but after he got to the top, he's only been 'chopping' that's about that, he's not been doing anything apart from 'chopping'. I'm saying so because nothing is becoming big, the industry is not becoming big, it's only his stomach which is becoming bigger."