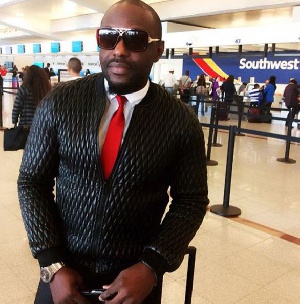 Top Nigerian sensational Actor, Jim Iyke has sent a long letter to God through his Instagram page asking for a daughter in the new year 2017.
The actor who is not satisfy having only a son decided to petition God for a baby girl so as to make his family complete.

Well, instead of Jim Iyke praying, he took to Instagram to write a long prayer letter to God hoping God will read and answer him.

Now the letter:

Dear LORD,

I decided to quickly submit this petition before the year runs out. I'll keep it short and straight. The last time we had this convo, King Harv showed up. My life has never been the same since. It's being an amazing cocktail of unprecedented blessings, self-realization, bold endeavors and forging of powerful alliances.
I'm eternally grateful LORD.

Now to the matter at hand. My sister says I'm a career cynic. My Ghanaian ex says my head is too strong for love. My Nigerian and past exes says he's amazing but GLADYS took the last iota of love he has for any woman with her. My longest friend, UK, seems to agree and my longest biz partner has wisely said he's unsure where to stand in the matter! Smdh!

I want a baby girl LORD. A daughter that will keep me on her permanent MUMU BUTTON. I've done this before when King came and turned even the hardest skeptics to awe struck as I took fatherhood to the letter as naturally as fish in water.